As I was speaking with one of my coaching students this morning I realized one thing….
Self doubt is the #1 killer in this business.
If you've been reading my emails often you probably think I'm this untouchable guy who does $50k-$70k a month. And you're right …. except the untouchable part.
Maybe right now you're down to your last dollar. Maybe you have money, but not sure where to get started. Maybe you just doubt yourself on a daily basis thinking things like "Sure Massimo it's easy for you".
Years ago I was in your exact shoes.
Years ago I was experiencing the same doubts that you have.
Years ago everyone around me doubted me.
So what was the changing factor?
What spurred all my success?
I made a DECISION that I was tired of struggling, I was tired of being broke and I was tired of watching everyone else be successful. I stopped making excuses and I took accountability for my own life. I no longer said things like:
– I'm broke and I don't have the money.
– I don't know where to start.
– If I had a list I could make money.
I found a way to raise the money by freelancing, selling services and doing affiliate marketing with basically zero budget to earn the money. I learned what to do by reverse engineering others and copy what successful people do (feel free to copy me).

(daily leads that I got in my business, I mean new leads)
I mastered a traffic source to generate fresh leads daily so I could get my message or offer in front of the right people.
But…..it all started with the decision to stop the whining, complaining and excuse making and start producing results. What you may not realize is that you have what it takes right here, right now no matter what circumstance you may be in.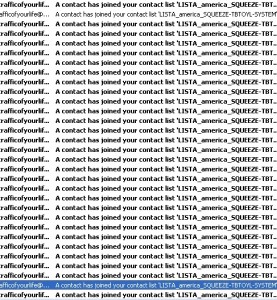 Maybe your current circumstance isn't as bad as mine was or maybe you have it worse than me…..it doesn't matter. If you just make the DECISION to take charge of your life right now in 3-6 months you can be in the exact same place I'm at right now.
Is six months to long to create a high six figure business?
Is six months to long to create a life you love living?
Is six months to long to FIRE your boss and live life on your terms?
Is six months to long to commit once and for all to yourself and your family?
I believe it's possible for anyone to become successful in this business in six months, even YOU.
Follow my emails, follow my blog and add me as a friend here on FB and read the daily tips I share. If you just apply 1/4th of the information I share with you then you have everything you need to duplicate me.
I truly want to see YOU succeed, but it's up to you to apply what I teach. I have successful coaching students making big boy bucks and then I have broke coaching students.
Whats the difference?
The successful ones didn't make excuses and they committed themselves once and for all to stop playing small. You can finish 2014 out strong, but it all comes down to making that choice.